---
Miscellaneous Photos from '02
---
[Click on any of the thumbnail images to view pictures from that event]
---
NOTE: For faster loading, most events with more than 4 photos each are on separate pages. Links to those pages are below. Everything on this page, including the links to the other pages, is in chronological order as usual, so if you are here looking for the newest links and photos, they'll be near the bottom of this page.
---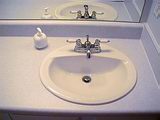 2002 started out with a little remodeling...Finally!
---
After many months of searching and indecision, Kathy finally decided on an entertainment center that could hold all of her zillions of cassettes, CDs and videotapes...and I got to put it together:
---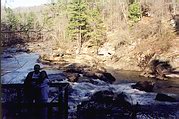 Some days are are stressful, others are A Walk In The Woods
---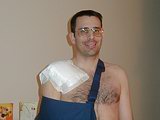 Shoulder surgery makes a good excuse to grow a beard.
---
Kathy's & Jennifer's birthdays (always celebrated together) were a bit uneventful this year, only two pictures:
---
I suppose this is as good a place as any to put a couple cute, random pictures of Kathy's dog, Tiano.
---
Do you remember my old "Apostles" singles Sunday School class? Go back to 1997 or so and there's lots of pictures of them. Well, I'd say the dynamics of the classmates has changed since then! We all still occasionally go out to dinner together.
Most are now married...and look at all the kids!
---
Kathy & I went to a wedding, but most of the pictures came out bad because my camera failed to focus on anything more than a few feet away! So anyhow, here are two pictures:

Do you recognize Jeff and Teresa from the 1999 Church Ski Trip?
---
The first weekend of summer, Kathy and I took a drive up to Cloudland Canyon State Park (GA) and got a little exercise. There were to waterfalls that we went to see. The hike was less than a mile, yet took about 2 hours round-trip! It was very hilly. When we got there we found that there was very little water falling. :-( By the time we got back to the top, we were too tired to do the 4.7 mile hike around the top of the canyon. (Yes, we're out of shape!) But it was still very pleasant, good exercise, and great weather...
---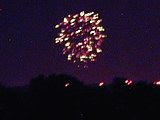 We celebrated the
4th of July Weekend at a Wedding
in Indianapolis.

---
In August, Kathy and I went back up north once again.
This time to Chicago.

Here are a couple more pictures taken while in Chicago...
A group shot of Kathy's friends
(John & Jenny), Kathy,
me, and my friends
(Steve, Peri and Winston).

Kathy was amused by these.
On I-294, the "oasis's" are
above the road so it is shared
by traffic in both directions.

---
!!! October News !!!
You might notice a change in the content of this page from this time forward.
One might think after attending three weddings in two months that Kathy and I may have gotten even closer, but nope. We broke up in October. Given how we started out as friends for years before dating, I doubt we'll drift completely apart. Some of you may have seen this coming, others may be shocked, but however things progress, I truly want both of us to be happy in whatever each of our lives has in store in the future..
---
---
---

The Holiday Season / Christmas in Chicago
---