---
Miscellaneous Photos from '00
---
[Click on any of the thumbnail images to view pictures from that event]
---
NOTE: For faster loading, most events with 3 or more photos each are on separate pages. Links to those pages are below. Everything on this page, including the links to the other pages, is in chronological order as usual, so if you are here looking for the newest links and photos, they'll be near the bottom of this page.

---
I didn't get any pictures from New Year's Eve! Yep, no "millennium" pictures, but then this technically isn't the next millennium anyway.
---
The Super Bowl was held in Atlanta, and I had the opportunity to dance in the pre-game show. NOTE: I had to move this to a different server due to disk space, so if the link below doesn't work, it means that server is temporarily down.

Dancing in the Super Bowl Pregame Show

Swing Dancing Pictures from 2000
| | |
| --- | --- |
| | I took my close friend, Deb, out to dinner for her birthday over Valentine's weekend. The restaurant, Nikolai's Roof on top of the Hilton Hotel in downtown Atlanta, must have assumed we were dating and gave us the special Valentine's couple package. It ended up being one of the best, most romantic restaurant experiences ever! Exquisite food, wonderful service, a great view of the city, Nikolai's provided a perfect atmosphere. Of course the company was awesome too. Nikolai's even gave Deb a rose and professionally took our picture! It's all a little ironic since we are just friends, but it sure was cool. I highly recommend Nikolai's Roof if you're looking for a fine dining experience. |
In March, my friend Deb invited me and several other mutual friends out to her parent's condo in Utah for a few days of skiing and lots of fun...
Some people have asked what has happened to my friend Kathy who was all over my 1999 photo pages. Well, nothing really. We're as close as ever. She has just been very busy working on her Master's degree and unfortunately hardly ever gets a chance to get out and have fun. It's even rare that she is able to come out swing dancing, which sucks for me since I love dancing with her. My friend Deb and I would have liked Kathy to come to Utah for the ski trip (above), but alas, she was just too busy with school work.
Anyhow, one event Kathy couldn't escape was her birthday. Our mutual friend Jennifer's birthday is just two days before Kathy's so we had sort of a combined birthday outing. It started out separate with Jennifer and some of her swing-dancing friends going to dinner while Kathy, me and her other friends went to Whole World Theater (a great improv place), and then we all met up later at Swingers for some dancing...

Kathy's and Jennifer's Birthdays
Kathy and I performed some swing dancing for in the Disney booth at a local "Country Fair" / Air SHow held at Dobbins Air Base, just outside of Atlanta. There were several couples that volunteered to do this. The show was actually put on by a local dance studio, Atlanta Dance World, so it wasn't all swing, but 3 of the 5 numbers were swing, and Kathy and I were in all three...

Swing Dancing at Country Fair / Air Show
A week or two later, I was my friend Jennifer's partner in a talent show put on at the school she teaches at. The show was mainly for the kids, but there were a few faculty acts to get the show rolling, and Jennifer asked me to be her partner for the show...

Swing Dancing at Jennifer's School's Talent Show
Kathy was in the movie "Road Trip" that came out near the end of May nationwide! It's definitly a step up from the local plays she was in, although she had bigger, speaking parts in the plays and was only an extra visible for a few seconds in the movie, but nevertheless, I think it was fantastic of her to be in it and I liked the movie too. You have to check it out...

Kathy in the movie "Road Trip"
My friend Deb put together a fundraiser for the hospital she works at, Hughes Spalding Children's Hospital, which was a concert by local recording artists Memory Dean. The event was held at a great, smallish venue, Smith's Olde Bar, and Memory Dean put on an incredible show...

Hughes Spalding Children's Hospital benefit / Memory Dean concert
My friends Frank & Debbie (not to be confused with me and my friend Deb) are tying the knot in September. Here are some pictures from one of their wedding showers, which also was a nice reunion of several of us that hadn't seen each other in a while...
As usual, I had a party over the summer. In the past it was for the people in my Sunday School class who had July birthdays, but this year, since the class had disbanded and many people had gotten married, had kids, and others simply drifted apart, it was more of a reunion...and it turned out great...
Kathy went home to Pittsburgh for a week and I flew up to visit her (and to go swing dancing with her and her friends) over a weekend. I also got to see my friend Dave who used to work with me before he moved to Pittsburgh for another job. Unfortunately, I forgot to bring the camera to most of the places we went, so here are just two pictures of Pittsburgh at night:
| | |
| --- | --- |
| Downtown at night | "The Point" at night (where 2 rivers come together to make a 3rd.) |
Labor Day Weekend, Kathy, Jennifer and Hilary and I took a little safari. Yes, a safari...in Georgia...
Totally out of the blue, my friend Steve from Chicago called me on his way back from Disney World to see if I'd be around when they passed through Atlanta. The next morning Steve, Barb and Garret and I went to breakfast. It was great seeing them, especially so unexpectedly. (What a nice surprise.
Thanks, Steve!)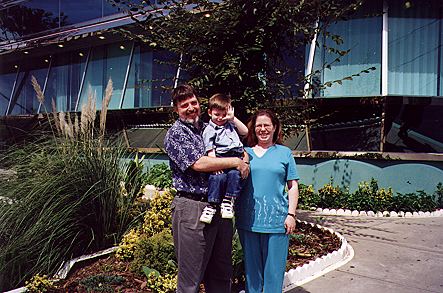 And of course, ending the year was the holidays...
---
(To Frank's home page)