---
The Holidays - 2000
---
Okay, so I don't have a lot of pictures from the holidays this year. I guess I'm getting to be less of a camera person. I kept forgetting to bring it places and had to rely on other people giving me duplicates of theirs. Oh well.
This is me and a friend, Nancy, from church. A couple, Mike & Sheila, from our old Sunday school class had a Christmas party / reunion of sorts: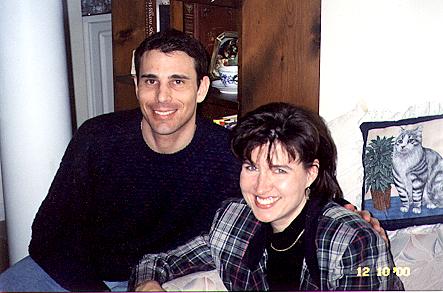 Taken at the same party, this is me and Janna: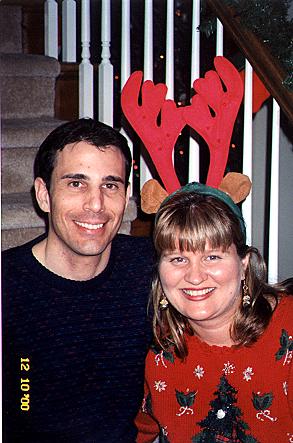 Alright, this next one takes some 'splainin' . . .

One of my sisters sent my mom some tropical flowers from Hawaii. They were sent FedEx, packaged well, and marked perishable. Unfortunately, FedEx didn't ring the bell, and left them between the front door and the screen door...in Chicago...in December...with the temperature in the teens. Since we usually use the other door to the house, my mom didn't find them there for nearly 24 hours. They were frozen solid. My mom "salvaged" a couple, including by splinting one of the Birds of Paradise with a pencil and masking tape...accented by fallen pedals in a bowl. It was just too funny to not take a picture of. (Maybe you have to be in my family to appreciate it.)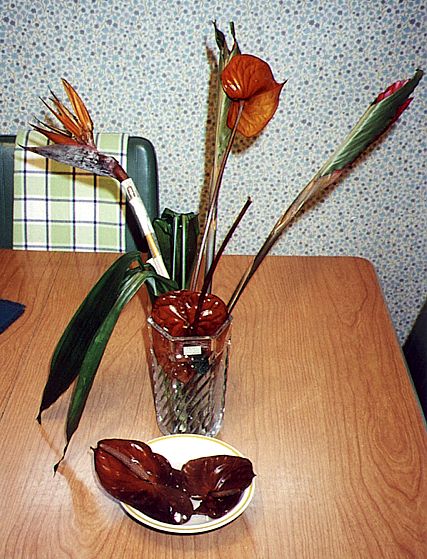 The year came to an end on New Year's Eve (I bet you would never have expected that, ;-) Anyhow, I, of course neglected to take my camera to the party we went to, but this is Kathy and me before we left to go out. It was a casual party (as you can guess by the attire) held by one of the church's Sunday School classes. Yes, Kathy's hair is getting long! And yes I have a razor burn on my neck. And no, Tiano (the stocking) is Kathy's dog, not a nickname for me.
---
(To Frank's home page)